Client




Genies

Agency




MetaLab

Role




Design Lead

Tasks




Team lead, UX, UI, prototyping
Goodbye IRL, hello metaverse
Genies is a 3D avatar tech company that believes every human will need an avatar to represent themselves as the lines between the physical and digital worlds become increasingly blurred.
With a valuation of $1B, the rest of the world seems to agree.
Following a successful partnership on The Warehouse, Genies asked MetaLab to tackle the mobile app next.
The brief was pretty simple. To create an experience that lets users create and share their most authentic digital selves with the world.
Our approach
Designing for a Gen Z persona we knew we'd win by creating an experience with lots of freedom and room for creativity. That way, users feel like they're freestyling rather than following a recipe.
Leaning on the visual direction we established for the website, my approach as the design lead was to have the team of three product designers go wide and experiment as much as possible. Smaller challenges were typically split between team members — bigger bits I'd have all team members attack from different angles followed by jam sessions to land on a final solution.
Here's an overview of where we landed 👇
Onboarding experience
Genies onboarding gives users a taste of the experience so they see value quickly.
The initial walkthrough sets expectations of what's to come and prepares users for creation and potential purchase flows so they know what they'll need to do to get across the finish line.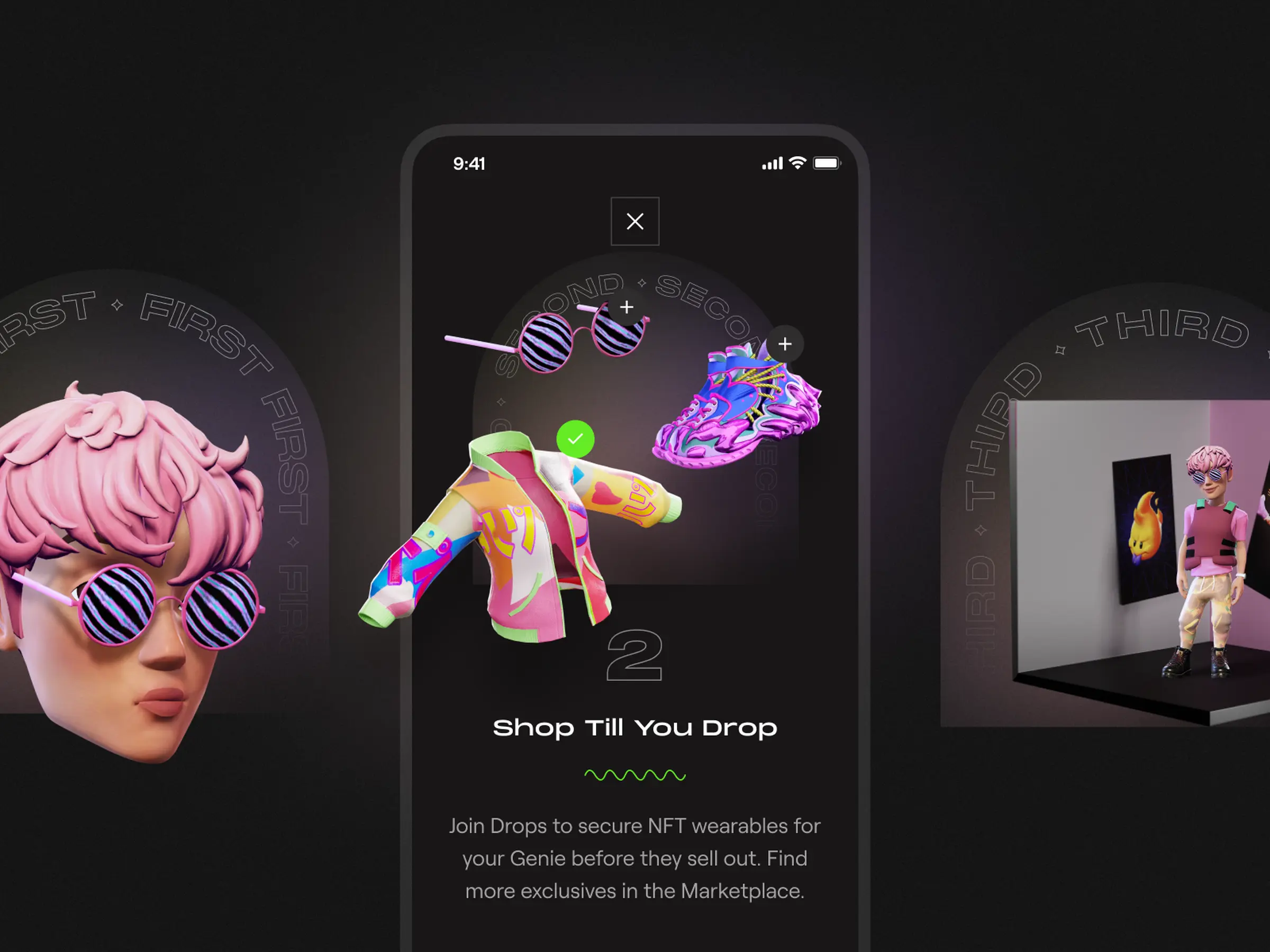 Avatar creation
Avatar creation allows users to easily create an avatar that truly represents their online persona. Genies encourage folks to break the rules and express themselves in the best way possible — leaving behind the limitations of the physical world.
With both human and non-human avatars, and extensive personalization options, the possibilities are endless. And boasting a roster of ex-Disney character animators, you won't find a better avatar out there.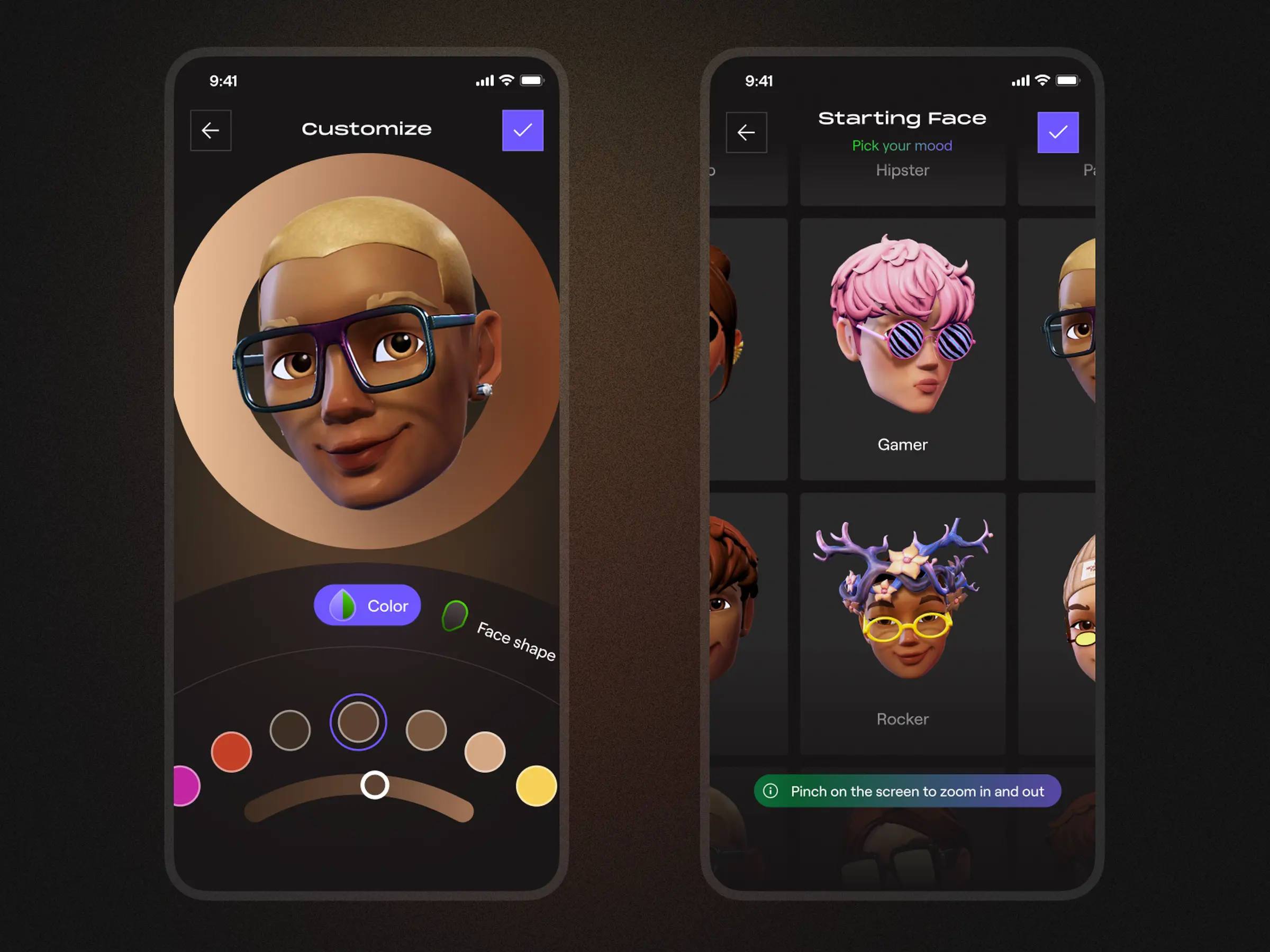 The fitting room
In the Fitting Room, users can discover and style NFT wearables for their avatar.
With our Gen Z audience in mind, we wanted the shopping experience to feel like thrifting, where the process of hunting and finding the perfect item is as rewarding as the purchase itself.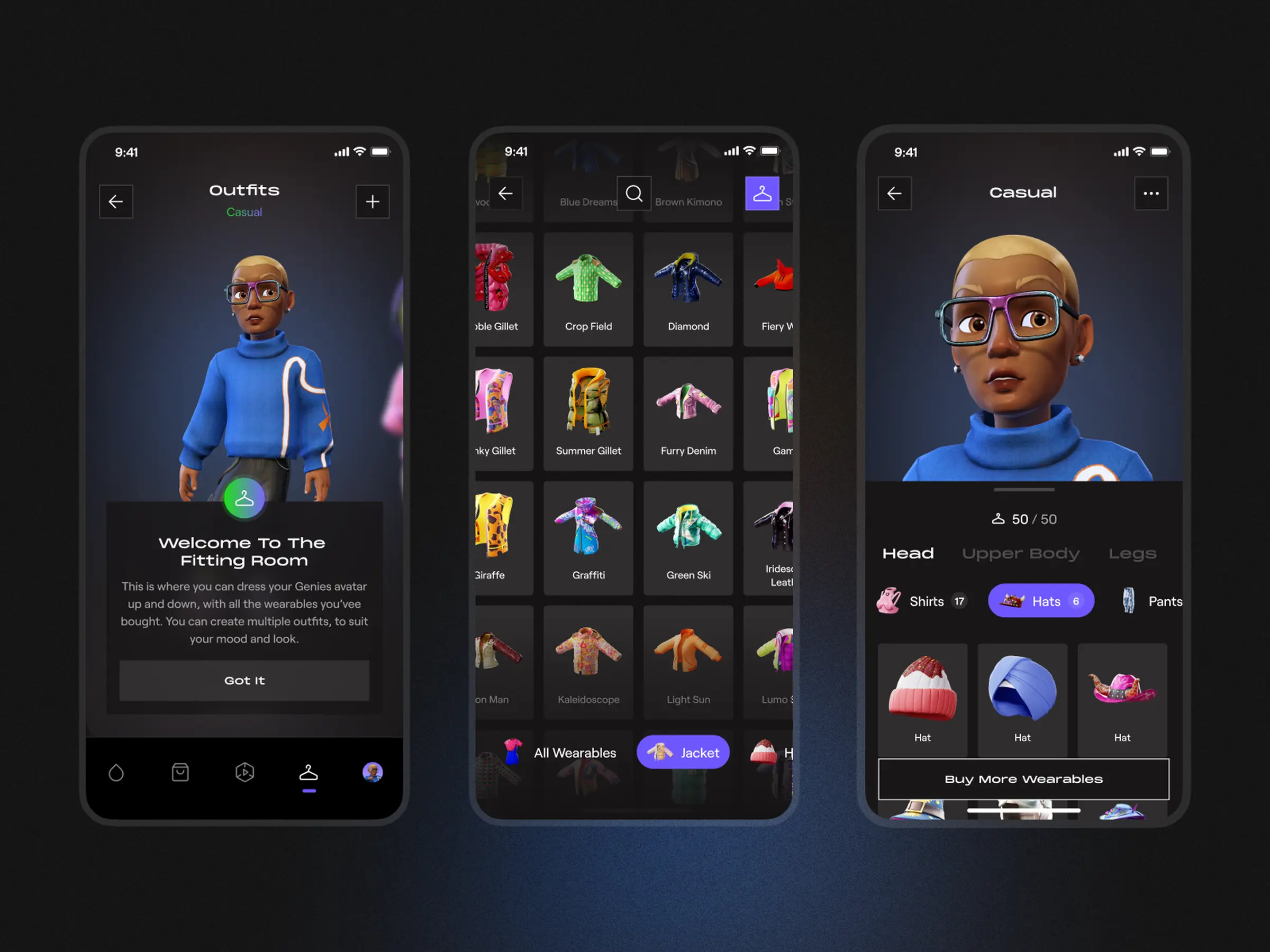 Creator tool
An app built for creatives, by creatives, the Creator Hub allows users to design and sell their own line of wearables for the ultimate expression of themselves.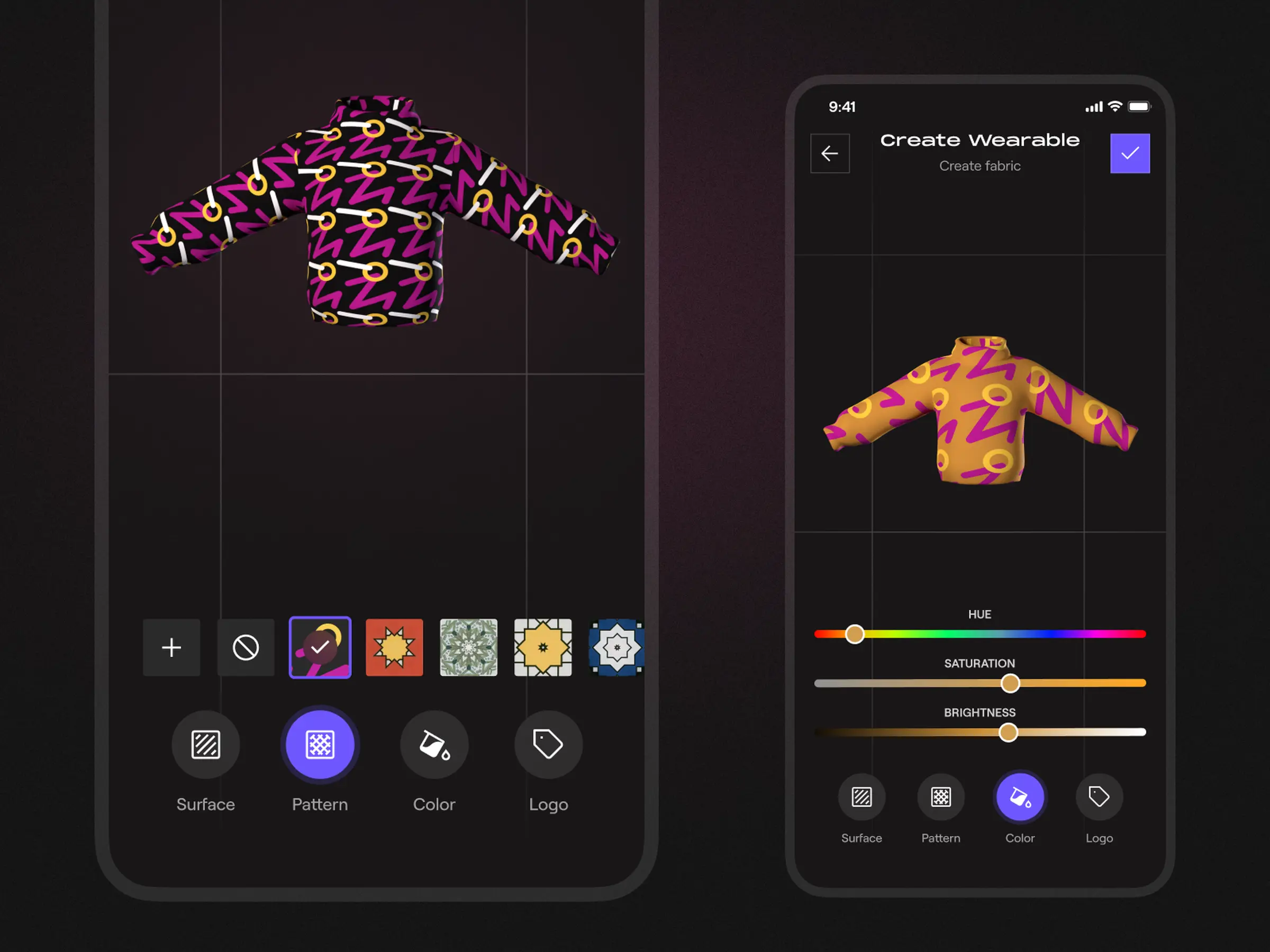 Social sharing
Finally, camera tracking brings avatars to life — adding personality with facial expressions, poses, and… dancing (yes, that's a dab you see).
From there, users can export and share their avatars across their favorite social channels.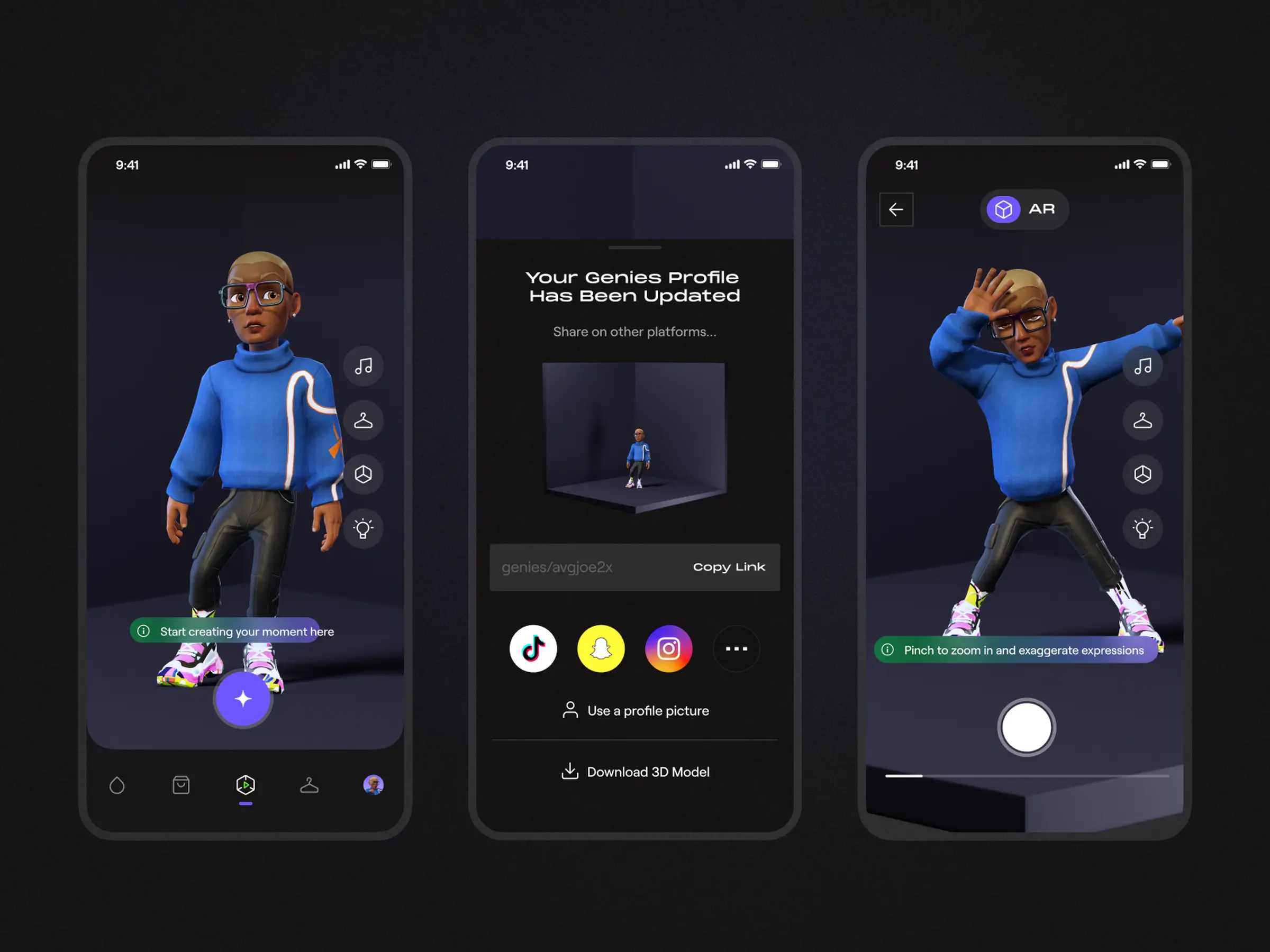 The future of Genies
We're on the verge of a new era of the internet and Genies is defining what our identities will look like in the very near future.
With exclusive deals to be the exclusive NFT provider for Universal Music Group and Warner Music Group, Genies is securing their position as a pioneer in the space.